CENTRAL OFFICE
Serving Tri-Cities
Helping people along life's journey with Christian-based mental health services.
Main Office hours:
Mon- Thurs 8:30 am – 4:30 pm
Fri 10:00 am – 2:00 pm
Other times available by appointment.
Contact Us:
1-509-946-1430
1-844-375-3929
Fax 509-946-1432
1124 Stevens Drive Richland, WA 99354
Robert "BJ" Olson MS LMHC
Executive Director
BJ is a Licensed Mental Health Counselor who graduated from Central Washington University with a Masters in Counseling Psychology Degree in 1999. He is a Child Mental Health Specialist and has specialized training in Dialectical Behavioral Therapy, Motivational Interviewing, Illness Management and Recovery, Trauma Focused Cognitive Behavioral Therapy, Gottman Method Couples Therapy, and SYMBIS Marital Assessment. He has worked in a variety of mental health counseling settings including psychiatric hospital, jail, group home, and rehabilitation facility working with homeless, schools, and workplace issues. BJ is an Ordained Minister and also serves at Richland Baptist Church as the Pastoral Care Counselor. He joined Emmaus Counseling Center in 2005, serving as Clinical Director until assuming the position of Executive Director in 2014. He continues to see clients part-time including children age 4 and up, adults, couples and families.
Steve Peck
MS, MDiv, LMHC
Steve is a Licensed Mental Health Counselor with a Masters in Counseling Psychology, a Masters in Divinity, and a Certificate in Spiritual Direction from MARS Hill Graduate School. He joined Emmaus Counseling Center in 2006. Since 2007, he has also worked full time at Lourdes Counseling Center on the PACT Team providing services for individuals with severe and persistent mental health issues. Prior to his work as a counselor, Steve had a 28-year career as an engineer, manager and consultant. He sees adults, adolescents, children (age 4 and up) and couples with anxiety, mood disorders, psychosis or relationship issues. He works to help clients develop insight into their issues to allow effective changes in how they think and live, and to develop coping skills to support the changes clients want to achieve.
Jamie Brault
M.Ed. LMHC
Jamie is a Licensed Mental Health Counselor who graduated with a Master of Education in Community Counseling degree in 2009 from Washington State University after earning her undergraduate degree from Seattle Pacific University in Psychology. She rejoins Emmaus in October 2018 after taking some time off to adopt her second child (both international adoptions). She was recently accepted into a 9 month certificate program which focuses on trauma-focused narrative therapy through The Allender Center at The Seattle School. Jamie is a Child Mental Health Specialist and has been trained in Trauma Focused Cognitive Behavioral Therapy (TF-CBT), an evidence based training from The Center for Sexual Assault and Traumatic Stress (formally the Harborview Sexual Assault Center) through the University of Washington. Jamie has experience in community mental health working with children, teenagers and adults. At this time, she will be seeing clients age 8 and up. She is also trained in the "Prepare and Enrich" premarital counseling program. She works with individuals with a specific focus on addressing depression, anxiety and trauma recovery. She takes a strength based goal oriented approach along with offering a space for your story to be told as a way to facilitate healing.
Lisa Lovejoy
MA, LMHC, NCC
Lisa is a Licensed Mental Health Counselor who has worked with the chronically mentally ill in the community and in their homes. She joined Emmaus Counseling Center in 2012. She specializes in working with individuals with trauma backgrounds, depression, anxiety, grief and more. She is trained in Gottman method therapy, working with couples to restore broken marriages, lack of trust in relationships or within families, or for anyone who would like to just learn to communicate more effectively. Lisa has a passion for people and has been called to restore hope and direction for those who seek help. She is also trained to provide Critical Incident Stress Debriefing for individuals and groups of people where there has been a crisis of any magnitude. Lisa will see individuals age ten and older.
Karen Brashear
MSW, LICSW
Karen is a Licensed Independent Clinical Social Worker.  She has training and experience in art therapy, play therapy, grief and loss, anxiety, depression, and codependency therapy.  Karen works in Brief interventions, Cognitive Behavioral Therapy, and Family Systems.  She works with clients to focus on strengths, collaborative goal setting, developing new thought pasterns, and learning skills.  This approach is conducted while upholding Christian Values and beliefs.  These varied therapeutic approaches are integrated to help clients maintain mental health and overcome barriers that clients have faced in their lives.
Emmaus Administrative Staff
Frances-anne
Office Manager
Frances-anne joined Emmaus Counseling Center in July of 2019 as Office Manager. She has been active in non-profits in our community, most recently as the Central Office Manager of the Tri-Cities Food Bank, and has many years volunteering with school and music related organizations throughout the Tri-Cities. Her duties at Emmaus include client scheduling, insurance and client billing, and therapist health insurance credentialing.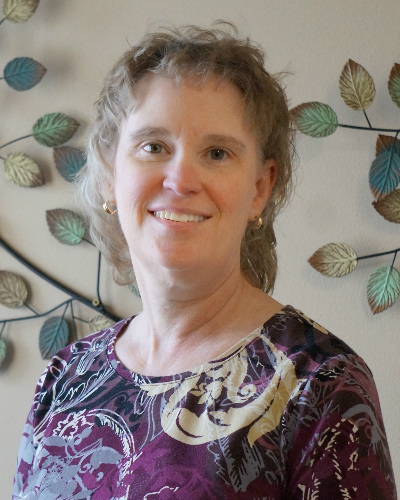 Susan Birney
Office Assistant
Susan joined Emmaus Counseling Center in 2016 as Office Assistant and Receptionist. Prior to joining The Center, she was employed at Hanford as a secretary. She has also worked as vacation relief for the Administrative Assistant at West Side Church where she has attended since 1989. Her duties at Emmaus include: receptionist and front desk tasks, client intake and scheduling, client reminder phone calls, insurance verification, chart processing and filing, and providing other support as needed.